"The Ideal of service"-Rotary's Fundamental Philosophy-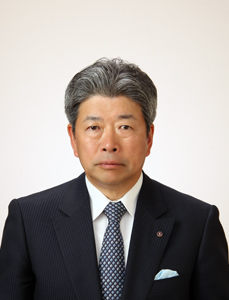 2016-17,
Governor, RI District 2660
Shinya Matsumoto
【2016–17 RI Presidential Theme】
The 2016–17 RI Presidential Theme has been decided as "Rotary Serving Humanity."
This theme implies that by increasing the number of members who possess strong leadership qualities, we can better pass on Rotary's tradition of "Doing Good in the World" through polio eradication projects and various other programs to achieve Rotary's lofty goal: Service to Humanity.
At this year's International Assembly, focus was placed on the following three points:
First, fiscal year 2016–17 marks the centennial of the Rotary Foundation.
Second, particular stress is placed on polio eradication as we approach 2018, the target year of this campaign.
Lastly, regarding membership encouragement, it has been mentioned that Rotary needs human resources who possess a strong Rotarian spirit and leadership qualities.
【2016–17 District 2660 Governor's Policy】
In line with the 2016–17 RI Presidential Theme, the 2016–17 Governor's Policy for RI District 2660 has been decided as: "The Ideal of Service" – Rotary's Fundamental Philosophy
"The Ideal of Service" is indicated in the third section of the Object of Rotary (previously known as the Objects of Rotary).
When Mr. Umekichi Yoneyama, who founded Japan's first Rotary Club in Tokyo in 1920, translated 'the Ideal of Service" into Japanese, he deliberately used the Japanese term sabisu rather than hoshi for the English term "service."
Although the English term "service" is usually translated as hoshi, this term connotes "self-sacrifice," so is therefore misleading. In consideration of Mr. Yoneyama's decision in selecting the term, we have adopted the English slogan "Ideal of Service" for this year's Governor's policy.
The difference between hoshi and "service" is illustrated in the chart below.
* Hoshi = one-way act
The arrow indicates one-way flow from individuals to society. This Japanese term strongly connotes self-sacrifice.
* Service = mutual interaction
The two arrows represent interactions between individuals and society.
Individuals offer/return the outcomes of their speech and actions to society; society in turn provides benefit to individuals.

In all of your Rotary activities, please consider this chart and promote understanding of the meaning of "service" in this context.
【2016–17 Targets of RI District 2660】
As practical targets for District 2660 in 2016–17, the following five items have been adopted:
Promoting and implementing the vision of "The Ideal of Service"
Stopping distribution of hard copies of Governor's Monthly Letters and promoting IT
Celebrating the Rotary Foundation's centennial and promoting polio eradication
Promoting Rotary's strategic plan
Reorganizing Intercity Meetings
1.Promoting and implementing the vision of "The Ideal of Service"
This year, we will stop providing hard copies of the Governor's Monthly Letters, since these are available on the District 2660 website. Shifting to the website has two benefits: promoting IT and effective use of the district's budget.
Beginning on July 1, 2016, the Governor's office delivers its Governor's Monthly Letters to individual clubs in PDF format. Meanwhile, individual clubs are requested to encourage members to register their accounts in My Rotary. After reading the Governor's Monthly Letters, please log in to My Rotary. Presidents of individual clubs are requested to report on the contents of the Governor's Monthly Letters and introduce topics of My Rotary during the "Presidents' Hour" on either day of the two-day regular meetings.
2.Stopping distribution of hard copies of Governor's Monthly Letters and promoting IT
District 2660 will thoroughly promote the vision among all its members, and encourage district and club activities in line with the vision. Through this initiative, we will work to ensure that Rotarians' activities truly benefit society, and that the activities and their outcomes are lasting and mutually benefiting.
3.Celebrating the Rotary Foundation's centennial and promoting polio eradication
This year marks the centennial of the Rotary Foundation. In this important milestone, we plan to implement centennial commemoration projects to offer even greater community service. Please note that among various services, the RI President places particular importance on polio eradication.
Individual clubs are requested to celebrate the centennial and promote the Foundation's activities. Since all six areas of focus have been selected as themes for special months in Rotary, please ensure that club members who are dispatched to the district be appointed as speakers at regular meetings.
4.Promoting Rotary's strategic plan
This year, we will continue promoting the Rotary's strategic plan, which comprises the following three priorities:
1) Support and strengthen clubs
2) Focus and increase humanitarian service
3) Enhance public image and awareness
RI is promoting the strategic plan in line with the resolution adopted at the Council on Legislation in 2013. In tandem with RI, District 2660 is also engaged in further promotion of the strategic plan.
5.Reorganizing Intercity Meetings
At the District Conference held on December 5, 2015, Resolution 8 (Resolution on ideal state of intercity meetings) was adopted, which stipulates that intercity meetings should be reorganized and that the method of electing assistant governors should be changed by around fiscal year 2018–19. This year, the District will commence initiatives to pave the way for these changes to be realized in the subsequent fiscal year. Proposed resolutions concerning these initiatives will likely be adopted at the District financial results briefing and Resolution Meeting to be held on September 24.
【Annual Targets of Contributions for 2016–17】
The annual targets of contributions and other related issues have been decided as follows:
Annual contribution $160 per person
Contribution for polio eradication $60 per person Total: $220
Benefactor 1 person in each club
Yoneyama Scholarships 30,000 yen per person
Membership encouragement Increase 2 persons in each club
【Council on Legislation 2016】
The 2016 meeting of the Council on Legislation was held in Chicago, Illinois from April 10 to 15, 2016. From District 2660, Mr. Morio Yokoyama attended the meeting as the District's representative. On May 21, he reported the outcome of the meeting to district members.
This year's council meeting decided that greater discretionary power and autonomy should be provided to individual clubs. I hope we can discuss the details of the decisions with you upon receiving the Japanese translation, which will be sent to us from RI's World Headquarters. The Council on Legislation holds its meeting every three years and decides important issues that can affect the bedrock of Rotary. Accordingly, please prepare yourselves for drastic changes to begin this year.
【Ultimate Goal for Our District】
In his speech, this year's President of RI referred to us Rotarians as "Rotary team" members. Accordingly, we have decided to call ourselves "Team 2660."
It is my sincere hope that through interactions between individual clubs, the District, and Alumni Associations, all 3,650 members of RI District 2660 will be united as Team 2660, and that the team will exert its leadership as a driver of the 34 districts in Japan.